When visiting our office, we help you overcome all obstacles.
Start living pain-free today!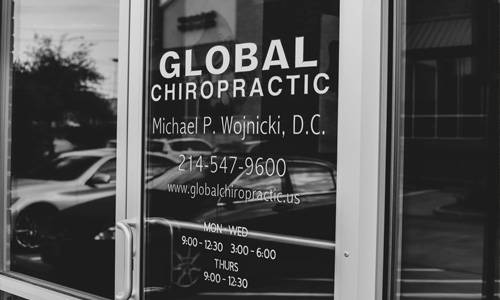 Dr. Michael Wojnicki thoughtfully designed and equipped Global Chiropractic in Allen, TX to help him provide his North Texas patients with their best care. We are located off of Hwy 75 and Stacy Road, just went of the Allen Premium Outlets. We share a parking lot with the Black Walnut Café and Emler's Swim School. Starting with the reception area, which includes a check-in desk and waiting area, patients are welcomed warmly into the office. Since every treatment plan is customized to each patient's needs, the office includes an examination area where Dr. Wojnicki can perform consultations to talk about the patient's concerns, take digital X-rays, and check your range of motion. After the exam and consultation, patients will be taken to the treatment area for care by Dr. Wojnicki using massage, manipulation, or physical therapy.
Upon entering Global Chiropractic in Allen, TX, a staff member will welcome you into our spacious reception area. At the reception desk, a staff member will check you in for your appointment, and get any information or paperwork that is needed before your appointment. Insurance coverage and payment options can also be discussed at the reception desk. Once you are checked in, you are invited to relax in our comfortable waiting area. You can sit in one of our comfortable chairs and browse our reading material or take a few moments to de-stress by doing nothing. After your treatment, we invite you to come back to the reception area to schedule your next appointment at Global Chiropractic - Allen to continue your treatment and care.
During your first visit to Global Chiropractic - Allen, you will meet with Dr. Michael Wojnicki in our examination area to go over your health-related problems, concerns, and potential treatment options. This initial visit is designed for Dr. Wojnicki to learn more about you, your condition, and expectations to determine how chiropractic care can meet your goals. After your consultation, Dr. Michael Wojnicki will perform a complete chiropractic examination testing your reflexes, flexibility, and more as needed. Depending on your specific condition, we may take X-rays as well. X-rays help us develop the most effective treatment plan for you and alert us of any serious spinal conditions. Our digital X-rays are taken in the exam area and can be viewed immediately. Most people are amazed once they see their X-rays up close. In some cases, they can even identify their misalignments and degeneration themselves. After reviewing your health history, goals, and examining your spine and X-rays, Dr. Michael Wojnicki will discuss treatment recommendations and notify you if your condition requires care with other providers.
After your examination and all following appointments, you will be taken to our treatment space to begin your wellness plan. This may include spinal adjustments, physical therapy, and/or soft tissue massage. Communication is important during treatment, so you can express concerns or preferences about your treatment at any time. Global Chiropractic - Allen's treatment room includes 3 intersegmental traction tables for advanced adjustments. Prior to leaving, Dr. Wojnicki will suggest a wellness program for you to incorporate at home outside of your treatment. If you are in pain when you first come into our office this may include: ice or heat application instructions, certain activities or positions to avoid, and at-home exercises and/or stretches. If you want, our wellness team will work with you also to create healthy habits and routines for your lifestyle to enhance the results of your chiropractic treatments.
WHY CHOOSE US AS YOUR CHIROPRACTOR
At Global Chiropractic, we treat every patient like family. We keep our schedule super flexible so that we can get our patients treated immediately when they are in need. We are very respectful with their time and keep our office visits as short as possible with the best quality care. We have our own digital x-ray machine in the office so that we can get all images taken and have the patient evaluated and treated on the same day.
COMMON SYMPTOMS WE HELP
We treat a lot of patients that suffer from back pain caused by long commutes to the office where they then sit in front of a computer all day. We have many young athletes that maintain their health and keep their bodies strong so they can survive the intense training schedules they endure. With increased technology, we treat a lot of children for "text neck" caused from them not using proper posture while playing on their devices.
THE HISTORY OF CHIROPRACTIC CARE
Daniel David Palmer developed the methods of the modern day chiropractic field. The first ever chiropractic patient was a janitor who was partially deaf. Palmer completed a simple spinal adjustment and the janitor claimed his hearing was improved due to the treatment.
Palmer went on to open the first school for chiropractic within the next two years. Since 1895, chiropractic care has become one of the most effective non-invasive treatment options for patients living with a wide variety of issues. Spinal adjustments have been used to help people of all ages overcome the discomfort in their lives and allow them to get back to doing the activities they enjoy.

Jan P.
Dr. Mike has helped me so much in overcoming vertigo. I had been struggling with it for over a year. I feel so much better now, I wish I had gone to him sooner! Also my back and neck are doing so much better. I highly recommend him. Also Lorene and Jenni are wonderful. Thanks to all of you!

Kristy F.
We have been going to Global Chiropractic for more years than I can remember. Dr W has always been kind, caring, and compassionate, as well as extremely knowledgeable regarding any circumstance we might be faced with. I recommend him to everyone!!!